Add class and distinction to your frameless shower door system with PRL's GlueChip shower glass. Delivering choice shower glass products in a rich assortment of designs, our GlueChip shower glass caters to the most discriminating of tastes.
GlueChip Rope Shower Glass Unit
Whether you're designing a frameless swing or sliding shower door system, our GlueChip glass will add noble presence to your shower and bath.
Ideal for numerous commercial and residential applications such as frameless shower enclosures, steam units, splash panels and shower partitions, PRL's GlueChip glass is fabricated with excellence and quality.
Our GlueChip shower glass is available in 3/8″ and 1/2″ tempered glass thicknesses for frameless swing door shower systems and 3/8″ thicknesses for frameless shower sliders. Manufacturing all frameless shower units in house, PRL's GlueChip glass can be fitted for any configuration or shower enclosure dimensions.
Available GlueChip Borders & Patterns
Supplying a stately selection of GlueChip borders and patterns, PRL offers an assortment of eye catching designs that create beautiful, gracious, showers and baths.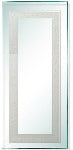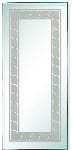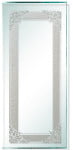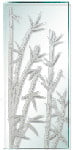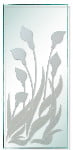 GlueChip Classic Shower Glass Doors
Decorate your frameless shower enclosure with charismatic styles that will be sure to impress.
Shop PRL of Southern California for shower glass in a variety of borders and patterns to match your style and budget. Deal direct with us and let our knowledgeable shower glass team provide assistance coordinating your frameless shower door unit from start to finish.