Complete Custom Shower Systems.
PRL's complete and custom shower systems make customizing the shower and bath of your dreams a reality. Make shopping for your frameless shower door enclosure simple with PRL of Southern California.
Boundless Possibilities. Boundless Beauty.
At PRL, we take the guesswork out of building ravishing complete and custom shower systems. Supplying everything you need to design a frameless shower door unit, we're your one-stop-shop for customizing awe-inspiring complete shower enclosures.
Manufacturing all complete shower units in-house, we can fabricate practically any custom shower configuration for frameless shower door sliders and swing door enclosures. That's right. At PRL, the sky's the limit. Imagine the possibilities!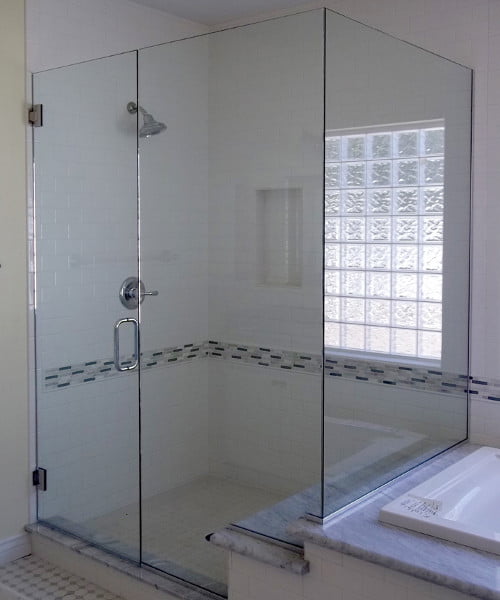 Custom frameless shower system with custom cut bottom shower glass panel. We can accommodate unique shower layouts and conditions.
Stunning, Innovative Custom Designs
Fabricating all complete custom shower systems to your specifications, our expert craftsmen can manufacture shower enclosures in virtually any geometric design and opening size. Gone are the days when you were restricted to standard shower unit dimensions, traditional designs and typical layouts. PRL can assist you every step of the way to render a custom shower and bath with innovation and pizzazz.
Whether you're designing a complete frameless shower enclosure, custom steam unit, splash panel or shower partition, PRL's your go-to source for exemplary custom shower systems and products. Our unmatched extrusion and glass fabrication capabilities enable us to build complete and custom shower products that are, in a word, stunning.
Spectacular Custom Shower Glass & Hardware Options
Offering only the finest shower glass customizations, our gifted artists can turn your shower and bath into a spectacular showcase. We can produce jaw dropping custom sandblasted glass designs, distinguished GlueChip borders and patterns and a limitless range of custom spandrel shower glass colors from the richest of hues to the most delicate of shades.
We can also manufacture custom shower hardware to your exact specifications. PRL's master craftsmen can extrude custom sized headers, support bars, shower door knobs and more in a variety of lavish custom painted finishes. Extruding virtually all shower hardware in-house, we can outfit complete and custom shower units to meet your desires and needs.
PRL's complete and custom shower systems. Deal direct with us and make the frameless shower door enclosure of your dreams a reality. We make it great and we make it simple.