Frameless Swing Door Shower Systems. Simply Awe-Inspiring.
For breathtaking frameless swing door shower systems that are sure to impress, contact PRL of Southern California. Create the bathroom of your dreams with our awe-inspiring all-glass swing door shower enclosures.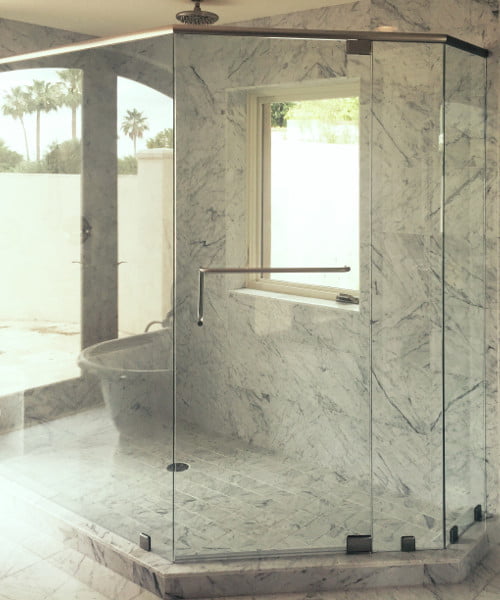 Frameless neo-angle swing door shower unit. Towel bar combo, support elements, hinges and clamps in polished chrome finish
Frameless Neo-Angle Swing Shower Door
Suitable for commercial and residential applications, PRL's frameless swing door shower systems are a great way to showcase custom tile and marblework. Made entirely of glass panels and slim, streamlined support elements, these frameless shower enclosures boast spectacular all-glass appearances.
Fabricated in-house to any opening size and geometric configuration, our frameless swing door shower systems are equipped with water and steam tight seals. Designed for heavy glass loads, these frameless swing door shower enclosures and steam units are available in 3/8″ and 1/2″ glass thicknesses.
Stable Frameless Shower Beauty
PRL's frameless swing door shower systems not only offer beauty, but strength and durability. Crafted with minimally sized, yet strong, support elements and hardware, our all-glass swing enclosures provide stability with clean, uninterrupted sightlines. We provide premium quality frameless shower door units designed to last.
At PRL, we provide numerous design options to create stunning frameless swing door shower systems- no matter how traditional or progressive. Extending a breadth of swing door configurations, shower glass types and a vast selection of hardware, we can accommodate virtually any shower or bath architectural design.
Need a custom steam unit, splash panel or vent cut-out for your shower or bath? At PRL, our extensive glazing capabilities also enable us to fabricate an array of other frameless shower products to your specifications.
Unlimited Selection of Configurations
Extending a virtually limitless selection of frameless swing door shower system configurations, we can accommodate a variety of design concepts in any geometric configuration and opening size.
Offering shower configurations ranging from single, double and bifold doors to neo-angled units, 180˚shower enclosures and more, PRL can manufacture frameless swing door shower systems, and steam units, to your exact specifications.
Abundant Shower Glass Selections
Whether your frameless swing door shower system calls for a functional or decorative shower glass type, PRL has a vast array to choose from. Offering everything from clear tempered to beautifully designed sandblasted glass artwork, our shower glass options will turn your bath into a spectacular showcase.
Choose from our large selection of popular textured glass patterns such as Master Ray, Master Care, Rain or more; or from our collection of Krystal Klear™ patterns such as Delta Clear, Delta Frost, Pebble and more. To make your frameless shower enclosure or steam unit really wow, select a border or pattern from our glue chip line or add a splash of color with our spandrel glass.
Shower Hardware Designed to Impress
At PRL, we offer a striking collection of shower hardware for our frameless swing door shower units. Fabricated from the finest materials, our shower hardware delivers quality and class.
We also offer impressive shower hardware collections to personalize frameless swing door shower enclosures. Furnishing exquisite selections of shower door pull handles, knobs and towel bars-in single sided or combo options, we offer numerous hardware styles to outfit showers and baths with sophistication.
Available in dazzling brushed nickel, polished chrome and oil rubbed bronze finishes, our shower hardware is sure to accent your frameless swing door shower unit brilliantly.
Also be sure to check out our Diamond Seal Shower Glass Coatings to Protect & Keep Your Shower Looking Beautiful!
Frameless In-line Swing Tub Enclosure
Experience the beauty and benefits of PRL's frameless swing door shower systems and deal direct with us. As Southern California's leading all-glass shower enclosure supplier since 1989, we're known for manufacturing premium shower units that deliver quality and elegance.
PRL Glass & Aluminum. We make your frameless swing door shower system dreams come true.